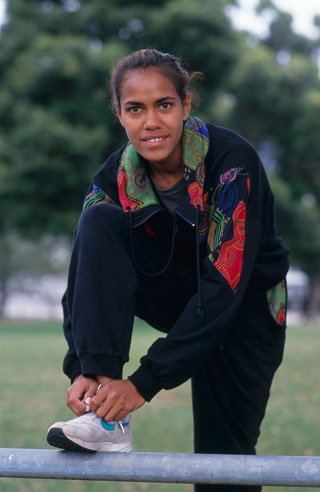 This content is available on the National Archives of Australia website:
http://vrroom.naa.gov.au/records/?ID=19548
Description
This is a colour photograph of Australian Olympic and Commonwealth athlete Cathy Freeman, aged 19 or 20, at a running track. The relaxed and casual photograph shows her smiling shyly at the camera. Freeman wears a tracksuit and has her hair pulled back. She is shown adjusting the shoelaces on her running shoes.
Educational value
Cathy Freeman (1973-) was Australia's greatest athletics star of the 1990s and early 2000s. The high point of her career was winning the women's 400 m sprint at the Sydney Olympics in 2000. Her career also included two world champion titles, three Commonwealth Games gold medals, a silver medal at the 1996 Atlanta Olympics and 14 national titles for the three sprint distances (100, 200 and 400 m). Freeman announced her retirement from athletics in 2003.
By 1993 Freeman had already achieved significant milestones in athletics but her best was still to come. Born in Mackay, Queensland, she showed talent as a runner from an early age. As a child, she was coached by her stepfather Bruce Barber and trained by running laps barefoot on grass. In 1989 she won a scholarship to a Brisbane school where she received professional coaching.
Freeman became the first Indigenous Australian to win a gold medal at an international sporting event at the 1990 Commonwealth Games in Auckland as a member of the 4 x 100 m relay team. She was the first Indigenous Australian to represent Australia in athletics at an Olympics at the 1992 Olympic Games in Barcelona, Spain. At the Sydney 2000 Olympics, she was given the honour of lighting the Olympic flame at the opening ceremony.
As a woman of the Kuku-yalanji and Birri-gubba people, Freeman has consistently expressed her pride in being an Indigenous Australian. At the 1994 Commonwealth Games in Victoria, Canada, she famously carried the Aboriginal flag - despite its not being an official flag - as well as the Australian flag in her lap of honour after winning the 400 m event. Criticism of this action by some commentators only increased her public popularity.
Freeman continues to be one of Australia's most popular sporting legends, recognised not only for her sporting achievements, but also for her commitment to young people and to Indigenous people. She was the first person to receive both Young Australian of the Year (1990) and Australian of the Year (1998) awards and received the Order of Australia Medal in 2001.