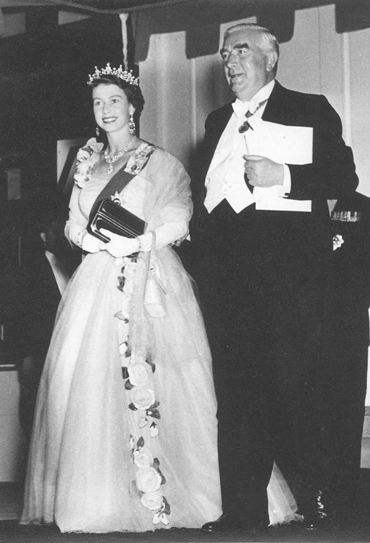 This content is available on the National Archives of Australia website:
http://vrroom.naa.gov.au/records/?ID=19567
Description
This is a black-and-white photograph of Queen Elizabeth II with prime minister Robert Menzies at an official function during the royal visit to Australia in 1954. The photograph shows Menzies escorting the Queen at the state banquet in her honour at (Old) Parliament House, Canberra, on 16 February 1954. The Queen wears a ball gown, with a sash and tiara. The prime minister is dressed in a formal dinner suit. The photograph comes from an album belonging to Dame Annabelle Rankin DBE.
Educational value
The photograph reflects the support in Australia for the British monarchy and the strong identification with Britain at the time when Queen Elizabeth II (1926-) toured in 1954. Just one year after being crowned, the young and glamorous Queen attracted great public interest. About 75 per cent of Australians saw the Queen and her husband during her eight-week tour. The tour started on 3 February 1954 and took in every state and territory except the Northern Territory.
The 1954 royal tour, the first in 20 years, was organised on an immense scale, probably because Queen Elizabeth II was the first reigning monarch to visit Australia. She visited every capital city except Darwin and also visited 70 country towns, made approximately 100 speeches and travelled 2,000 miles by road in 207 separate car trips. After this tour Menzies proposed that future royal visits be less formal due to the work and effort for organisers and participants.
Robert (Bob) Gordon Menzies (1894-1978) was known as a fervent monarchist who held a deep personal regard for the Queen, and their relationship was cemented during this 1954 tour. He first met the Queen before the Second World War and in 1953 he attended her coronation as one of the British Commonwealth prime ministers. In 1963, she conferred a knighthood on him. Despite his monarchist leanings, Menzies maintained Australia's strong alliance with the USA.
Robert Menzies's significance in Australian political history results not only from his longevity as prime minister but also from his role in founding the Liberal Party in 1944. After a successful law career, Menzies entered politics in 1928 and was prime minister twice, from 1939 to 1941 and from 1949 to 1966. He was one of the most important figures in 20th-century Australian history.
The photograph comes from the private collection of Dame Annabelle Rankin (1908-86), the first Queensland woman to be elected to the Australian Senate in 1947, and the first woman to hold a federal government portfolio. She served as a Liberal Party parliamentarian for 34 years, and was minister for housing from 1966 to 1971. Her records include correspondence, photographs, publications and memorabilia from her time in office.