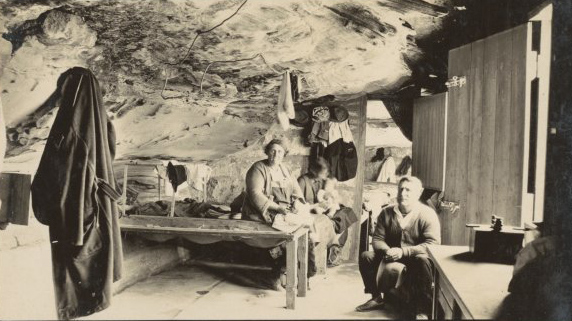 Description
This black-and-white photograph shows a family living in a cliff-face cave dwelling on the Kurnell Peninsula on the southern shores of Botany Bay in Sydney during the Great Depression. A man is seated in the foreground, and two women sit on the beds. The younger woman is nursing an infant in her arms.
Educational value
The family in this photograph is just one of many families who lived in cave dwellings and shelters along ocean-front cliff faces and the harbour foreshore. While makeshift housing in caves was not as common as shanty dwellings, they proved surprisingly resilient and were sheltered from the elements.
By mid-1932, almost one-third of the Australian workforce was unemployed and many Australian families were forced to live in exceptionally difficult circumstances, losing homes and income. The number of individuals and families forced to live in temporary or makeshift housing such as slums and caves was higher than ever before and many families literally found themselves out on the street after being forcefully evicted for not making rental payments.
Evictees such as this family took great care to establish a relatively comfortable living space in an otherwise harsh and weather-exposed environment: the floor, beds, a partition wall and desk have all been crafted from timber, and clothes and washing are neatly hung from the cave roof. Some cave-dwellers in similar circumstances even painted their walls.
Cave dwellers continued to occupy the coastal cliffs of Kurnell after the Great Depression, and many paid rates to the local council. However in 1961 the NSW Lands Department ordered most of them to leave.
The crash of the New York stock exchange in 1929 resulted in bank failures, a collapse of investment, mounting unemployment, falling commodity prices and a slackening of trade worldwide. Australia's particular problems during the Great Depression were the falling prices of its two major export commodities - wool and wheat - and the need to repay loans the country had secured from Great Britain in the 1920s.
The Kurnell Peninsula is the site of the first recorded contact between Indigenous people and the British in eastern Australia when Captain James Cook first set foot on Australian land in 1770. At the time of European settlement the Peninsula contained many specimens of native flora and fauna including 'Banksia attenuata', named after botanist Joseph Banks (1743-1820). The Kurnell Peninsula now has National Heritage listing.