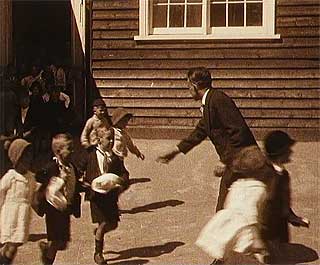 Description
This is an excerpt from an Australian silent documentary made in 1927 entitled 'Warrnambool: the ideal city'. It shows a primary school in Warrnambool, Victoria, in the late 1920s. The schoolchildren are gathering for an assembly outdoors, where the principal leads them in giving three cheers to celebrate the holidays, and later children gather round an open-topped car with Father Christmas in the back.
Educational value
This asset shows typical intertitles with the beautiful calligraphy used to set the scene or give information in the days of the silent film; often they were humorous.
It provides an example of early filming, when cameras were big and clumsy and not easy to move - the camera was mounted on a tripod, focused on the church in the middle distance, with the result that the children seem to disappear into a hole in front of the camera as they enter a dip in the road.
It shows aspects of the 1920s built environment - the action takes place first outside a wooden school building and then a more substantial building; there are rainwater tanks along the walls; in the background there is a dusty street with no pavements, single-storey brick houses all similar in design; and an Australian flag is just visible.
It acknowledges in the second intertitle the contribution of the TOC-H organisation, presumably distributing presents to the children here - TOC-H, a worldwide service club, was started after the First World War in memory of a soldiers club, Talbot House near Ypres in France (TOC-H was the wartime signallers' method of pronouncing the initials T and H of Talbot House).
It demonstrates how people react when they know they are being filmed - the principal uses large arm movements to shepherd the students in the right direction, and some of the small boys and girls make their presence felt by going the wrong way and later surging towards the camera.
It shows that women were accepted as school staff - three teachers come to help the principal, two of whom are women.
It illustrates the clothing of the time - the male teachers are wearing suits and ties; the female teachers are wearing long-sleeved dresses typical of the 1920s with low waists, and long cardigans.
It illustrates that children wore a combination of uniforms and casual wear to school - all the boys are wearing shorts and some are wearing ties, while some of the girls are wearing checked uniform-like dresses and the distinctive cloche hat of the 1920s.
It illustrates girls' party clothes - in the Father Christmas segment the girls are dressed in downsized versions of the tubular look worn by women in the 1920s, with long white socks.