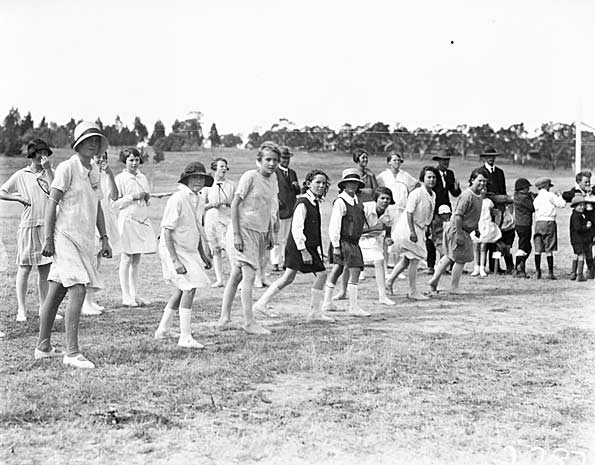 Description
This is a photograph of the start of a race for girls at a school sports day at the Acton Sports Ground, Canberra. Eight girls of early secondary school age are lined up to start a running race. Some spectators look on in the background.
Educational value
This asset shows girls and young women about to take part in organised physical activity - although there had been women's athletics in Australia for many years (the first female athletics state championship was decided in 1906), it was not until the 1920s that they became more popular, fuelled by the changed attitudes towards women's activities and by the advent of clothing styles that were more practical for sports.
It reveals that school sports days (or athletics carnivals) of the 1920s were rather casual compared to today's - in spite of competition for prizes, the start is relaxed, the runners do not wear any special clothes or shoes (some are barefoot), and there are no lane markings on the ground.
It shows the styles of clothing worn by girls in 1927 - dresses and tunics worn 'drop-waist' flapper style, hats with brims turned down to resemble cloches, and shoes with long socks or heavy stockings.
It shows the fashionable 'bob' haircuts worn by the girls and the women spectators - this style was made popular in the early 1920s by celebrities such as fashion designer Coco Chanel, and actresses Clara Bow and Louise Brooks.
It shows the styles of clothing worn by males in 1927 - the boys are wearing long shorts made of heavy material, shoes with socks pulled high to the knee, long-sleeved shirts and hats; the men are wearing jackets, white shirts and ties, and broad-brimmed hats.
It shows the Acton Sports Ground in 1927, which was situated at the old Acton Race Course in Canberra and was a popular venue for all kinds of sports days, racing meetings and displays - this natural basin made an effective arena, with trees retained around the edges for shelter; in 1963-64 it was covered by the waters of Lake Burley Griffin.
It is an example of a photograph by William James (Jack) Mildenhall (1891-1968), Information Officer for the Federal Capital Commission from 1926 - he became an official photographer for Canberra in 1921 and continued until 1935; the Mildenhall photographic collection documents the development of Canberra and comprises more than 7,700 images on glass negatives.