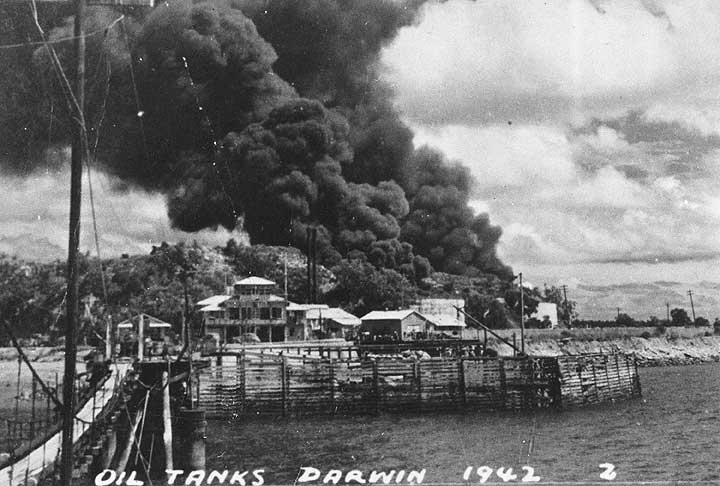 Description
This is a black-and-white photograph showing damage from a Japanese bomb attack to an oil storage site on Stokes Hill, above Darwin harbour, in the Northern Territory in 1942. There appear to be two plumes of black smoke billowing from the site, indicating two large oil tanks have been hit. On the left-hand side of the photograph is a temporary suspension bridge, linking two parts of the Stokes Hill wharf, damaged in a previous Japanese attack. The building with columns in the centre of the photograph is Darwin's Flying Boat Base.
Educational value
This asset shows one of the effects of one of the 64 Japanese air raids on Darwin in 1942-43 - it is believed this particular attack would have been in 1942, though it was clearly not in the first attacks on 19 February.
It demonstrates how in wartime fuel storage depots are regarded as prime targets - in this case Japanese planes had previously attacked the highly vulnerable tanks on Stokes Hill, but had missed some.
It illustrates one of the Japanese actions that prompted authorities in Darwin to build underground oil storage tunnels - the oil storage tunnels would not be completed until just after the end of the Second World War and would never be used for the intended purpose.
It features part of the Stokes Hill wharf, at the time the main wharf in Darwin harbour - it was L-shaped, the main loading area jutting out to the left from the point at which this photo was taken.
It shows a temporary suspension bridge used to link the two parts of the wharf that remained after the first Japanese attack on 19 February sank and set fire to the MV 'Neptuna' - when its cargo of 200 depth charges exploded, it tore out a large section of the wharf, and killed 45 people.
It features an important part of Australia's civil aviation history, the Darwin Flying Boat Base - using comfortable seaplanes known as flying boats, Qantas Empire Airways began nine-day commercial flights to Britain from Rose Bay, Sydney, in 1938, with the Darwin base the last of five stops in Australia before the Asian leg; as bombed vessels burned around it, a flying boat outside the base at the time of the first Japanese attack in 1942 managed to take off and escape, but Qantas lost six of its fleet of ten Empire Class flying boats during the Second World War, and the previously successful service never resumed.
It depicts a specific area of Australia that was subjected to repeated attacks by Japanese warplanes - damage to the wharf and oil storage area is already obvious, and the Flying Boat Base was destroyed in a subsequent air raid.