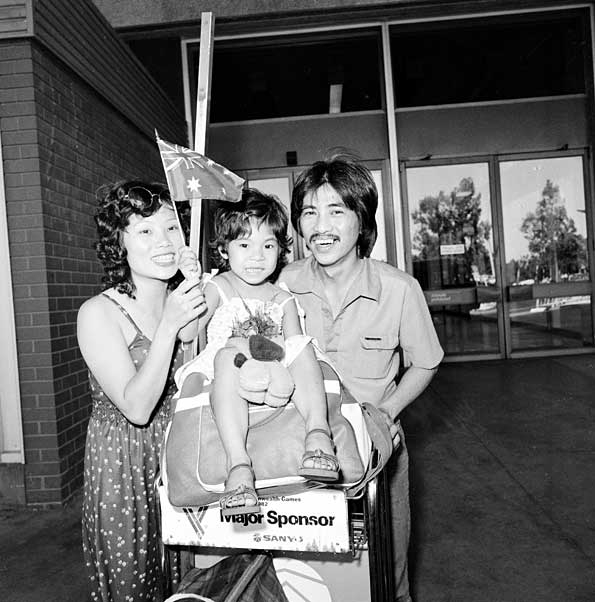 Description
This is a black-and-white photograph of a Vietnamese migrant family after arriving at an unidentified airport in Australia on 6 December 1982. Mrs Tran Dai De is with her husband, Huynh Tran Duong. Their six-year-old daughter, Huynh Ngoc Lien, is holding an Australian flag as she sits on an airport baggage trolley.
Educational value
This asset shows three of the first people to officially migrate to Australia from Vietnam under a 1982 agreement between the two countries - this migration was part of an Orderly Departure Program designed to stem the flow of people escaping from Vietnam by boat, as hundreds of thousands had done since the end of the Vietnam War in 1975; 624 people would be admitted to Australia under the program in 1982-83.
It shows a Vietnamese family who arrived legally in Australia by plane, in marked contrast to the 'boat people', some of whom reached Australia in the boats they had used to escape from Vietnam - in 1981, the 56th unauthorised boat had reached Australia, bringing the number of 'boat people' arrivals since 1976 to 2,100.
It portrays a family, apparently happy, at the very start of their new life in Australia - someone, possibly the photographer, had given the family an Australian flag and possibly a toy koala for the child.