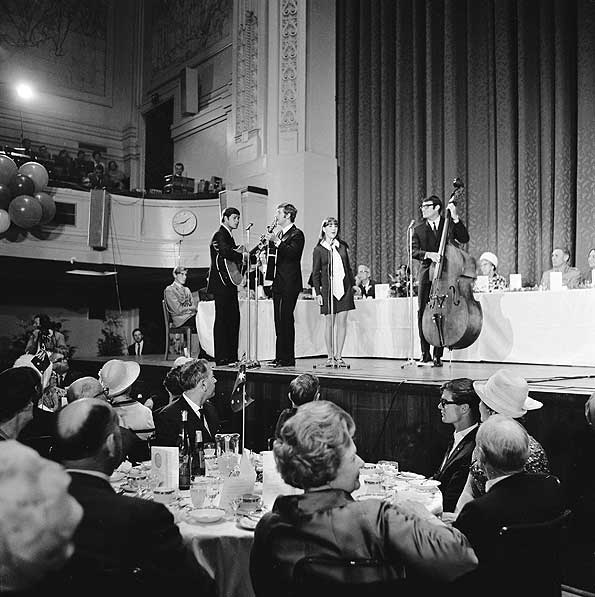 Description
This is a black-and-white photograph taken on 26 January 1968, of the pop group, The Seekers, performing in the Melbourne Town Hall after receiving their awards as Australians of the Year for 1967. From left to right, they are Keith Potger (vocals, guitar), Bruce Woodley (vocals, guitar), Judith Durham (vocals) and Athol Guy (vocals, double bass).
Educational value
This asset portrays The Seekers, who between 1964 and 1968 became the first Australian popular music group to achieve significant success in Britain and the United States, and the first to simultaneously have a Top Five hit in those two markets, as well as in Australia - their biggest hit, 'Georgy Girl' (1966), which sold 3.5 million copies, was the theme song of a US comedy-romance movie; because of their 'clean-cut' image, The Seekers appealed more to a conservative audience at a time when The Beatles and The Rolling Stones were dominating pop music.
It shows The Seekers on the day they received their awards as Australians of the Year for 1967 from Prime Minister John Gorton - they are so far the only group winners of the award, and they included the first person born overseas to receive it; Keith Potger was born in Colombo, Sri Lanka (then Ceylon).
It depicts a pop group on the verge of splitting up, even though they were at the peak of their success - The Seekers returned to London early in 1968, where they decided to split up; six years later, the three male members of the group, all former school friends, would form The New Seekers, and the original group would temporarily reform in 1993 for a 'silver jubilee' tour of Australia and New Zealand.
It shows a pop group used by the Australian Government in advertising campaigns designed to attract European migrants - The Seekers were particularly popular in Britain, but also in other parts of Europe.
It illustrates an official function to mark Australia Day, 26 January - on this date in 1788, Captain Arthur Phillip proclaimed British sovereignty over what became the colony of New South Wales; initially celebrated as 'Foundation Day' on or around this date, the federal, state and territory governments agreed in 1946 to observe it as 'Australia Day'.
It shows the main hall in the Melbourne Town Hall, on the corner of Swanston and Collins streets - the Town Hall, alongside the administration building of the Melbourne City Council, has been the venue for cultural performances and exhibitions since 1870; other groups to perform in the main hall include The Beatles and Abba and the entertainer Frank Sinatra.
It shows examples of late 1960s hairstyles and formal fashions - several women in the photo, including one in the official party on the stage, are wearing hats.