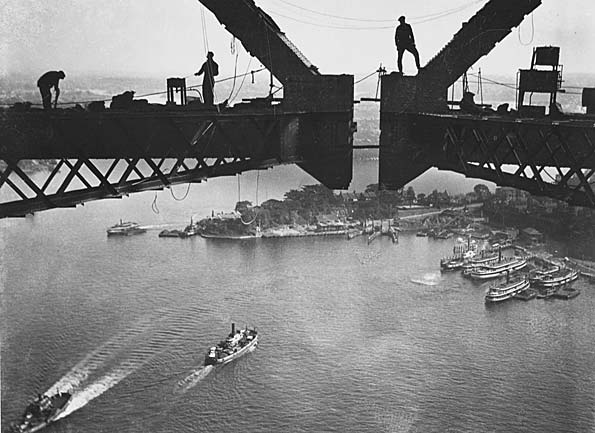 Description
This is a black-and-white photograph, taken in 1930, measuring 18.3 cm x 25.2 cm, of workers closing the arch in the centre of the Sydney Harbour Bridge, New South Wales. Below, ferries are going to and from McMahons Point Wharf, where others are docked. Jetties, terraced houses and some other buildings can be seen among the trees on Blues Point.
Educational value
This asset depicts workers closing the gap to complete the arch of the Sydney Harbour Bridge, which spans 503 metres - the arch was finally completed at 10 pm on 19 August 1930; during the next nine months, steel decking was hung from the arch to support the deck; the Bridge was opened on 19 March 1932 by Premier John Thomas Lang.
It shows part of the Sydney Harbour Bridge, called the 'coat-hanger' by some - after the First World War, Dr John Job Crew Bradfield and officers from the NSW Department of Public Works prepared a general design for the Bridge and the state government contract was let to English firm Dorman Long and Co; over the next eight years, 1,400 men worked to build the Sydney Harbour Bridge, supporting each half-arch with 128 cables; prior to its opening, 96 steam locomotives were used on the Bridge to test its load capacity; the £4.2 million construction cost was not paid off until 1988.
It gives an indication of the height of the Bridge - the arch reaches 134 metres above the harbour, with 49 metres' clearance below its deck to enable ships to pass underneath.
It includes some of the ferries that operated from McMahons Point Wharf on the western side of the Bridge - before the Bridge opened, ferries provided the only direct method of transport between Sydney's northern and southern shores; a similar ferry service operated on the eastern side of the Bridge, carrying passengers between Milsons Point and Bennelong Point, where the Sydney Opera House now stands.
It shows Blues Point, which was originally granted to West Indian convict Billy Blue in 1817, after he established Sydney Harbour's first ferry service using a rowboat; Blues Point, now a reserve, is a popular vantage point for people viewing the Sydney Harbour Bridge.
It was taken by Australian photographer Henri Mallard, who gained permission to photograph construction work on the Sydney Harbour Bridge from vantage points on the Bridge itself - a regular visitor to the Bridge between 1930 and 1932, Mallard recorded the building process in hundreds of photographs on glass plate negatives and also produced some moving images.