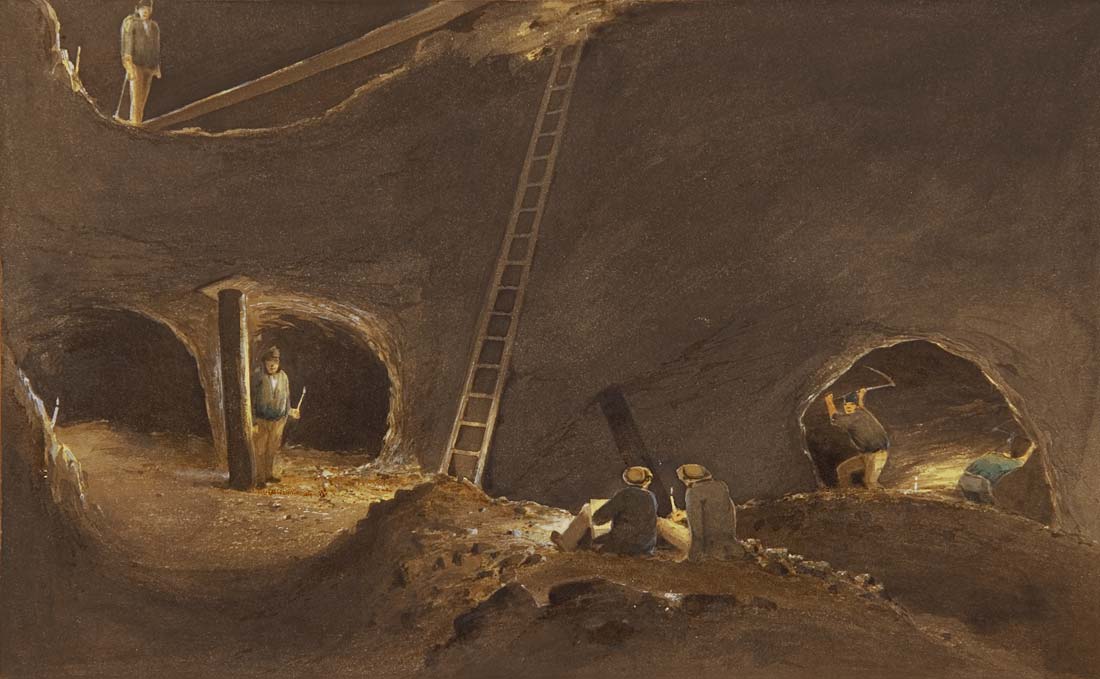 Description
This is a watercolour painting (26.7 cm x 37.4 cm) showing a large underground cavern, half-lit by candles, where miners work at rock faces in search of elusive seams of copper. Created by S T Gill (1818-80), this work is typical of the many sketches and watercolour paintings he made of the copper mining industry that had significantly boosted colonial South Australia's economy in the 1840s. While many of these works illustrate a valuable record of mining at Kapunda, Moonta and Burra, this image is particularly special because Gill (depicted painting at the centre of the work, next to a man holding a candle) had actually clambered down a ladder into the semi-darkness to capture the drama of mining life.
Educational value
This asset is a rare image within Australian colonial art - S T Gill was the first artist to record and celebrate mining in Australia; this work is one of only four watercolours of the underground Burra mines that he painted.
It is an example of the reporting role that art and artists played in the early days of colonial settlement.
It is an accomplished work by one of Australian colonial art's liveliest observers of social life - Gill was one of the first artists to come to South Australia in the earliest years of settlement; apart from his topical portrayals of Adelaide and its port, and his records of exploration, he is well known for his illustrations of copper mining in South Australia and life on the Victorian gold fields.
It shows early mining methods in detail - the large scale of the hand-cut galleries is evident, and miners can be seen hewing at rock faces with their picks.
It is an example of art linked to economic endeavour - copper was discovered at Kapunda in 1842 and at Burra in 1845, beginning a process of metal discovery and mining that has since become a very significant part of Australia's economy; artists such as Gill secured business opportunities through the economic conditions that mining created.