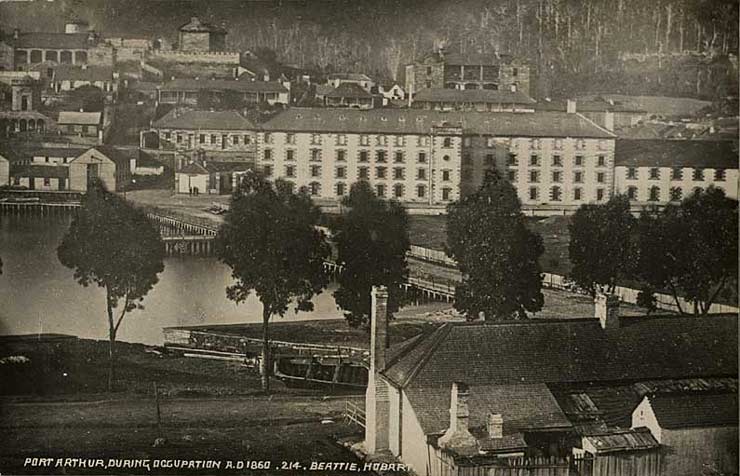 Description
This is a sepia-toned black-and-white photograph measuring 8.8 cm x 13.6 cm, taken from an elevated vantage point behind a cottage in the township of Port Arthur, looking across Manson Cove with its wooden wharves to Settlement Hill. It shows the Port Arthur Penitentiary (the large building in the centre of the image), with the Commissariat Stores on the waterfront on the left. Text at the base of the photograph reads 'PORT ARTHUR, DURING OCCUPATION, A.D. 1860, 214, BEATTIE, HOBART'.
Educational value
This asset shows what was one of the most notorious prisons in the British Empire - Port Arthur commenced as a penal station in 1830; by 1835 it had more than 800 convicts working in chain gangs; by the time it closed in 1877, 12,000 convicts, both men and boys, had been housed there; it was infamous for its cruelty and inhumanity, with prisoners living under threat of the lash and an experimental isolation system that drove many of them to madness.
It hints at the high level of activity at Port Arthur during the 1850s and 1860s - Port Arthur was simultaneously a prison, a town, an industrial complex and a reformatory.
It reveals the density of the sandstone and timber buildings that formed the settlement - in 1857 the old flour mill and granary was converted into a penitentiary, adjacent to which were constructed buildings housing a steam-driven sawmill, a blacksmith and forge and a carpentry workshop.
It shows the harbour location of the penal settlement - Port Arthur is located on the Tasman Peninsula and isolated by a narrow strip of land called Eaglehawk Neck, and a rugged coastline; this made it an ideal location for a penal colony, and escapes were rare.
It provides an early view of one of Tasmania's best preserved and most important archaeological and tourist sites - the Port Arthur Historic Site Management Authority has managed the penitentiary site since 1987 and has carried out numerous conservation, infrastructure, interpretative and archaeological works.
It provides an example of items compiled by E W Searle between 1911 and 1915 while he worked for John Watt Beattie (1859-1930) - Beattie was a renowned photographer of Tasmania and expert on Tasmanian history and was, from 1896, an official government photographer.