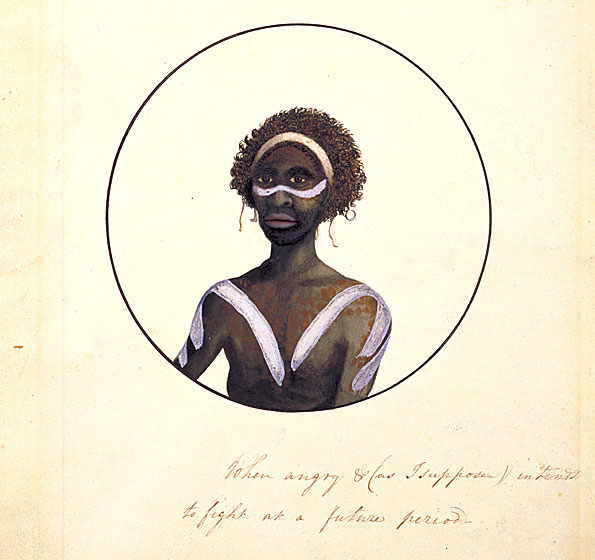 Description
This is a portrait of an Indigenous Australian man from the Port Jackson (Sydney) area of New South Wales, created in about 1790 by an unknown artist. He is depicted from the waist up, with white paint on his face, arms and chest. The text 'When angry and (as I suppose) intends to fight at a future period' is written below the image of the man. Measuring 29.4 cm x 24.0 cm, the portrait was painted in gouache (watercolours mixed with gum).
Educational value
This asset portrays a man decorated with white body paint made from fine white clay and water - in the Port Jackson area, white paint was used by both sexes for peaceful ceremonies, and red ochre was used by men preparing to fight; body painting carried deep spiritual significance and particular designs reflected social position, family relationships, ancestors, totemic animals or land; other forms of bodily decoration included scarification and wearing ornaments and headdresses.
It may depict Bennelong - a very similar drawing by the same artist is titled 'Native name Ben-nel-long As painted when angry after Botany Bay Colebee was wounded', with the man shown directly facing the viewer rather than turned slightly to the side; Governor Arthur Phillip wished to establish contact with the local Indigenous people, who had effectively avoided the British settlers, so issued orders to abduct a few; Bennelong was one of three captured, but he ran away after six months; he returned to Sydney late in 1790 and later travelled to England with Governor Phillip.
It is an example of gouache, a heavy, opaque watercolour paint that forms a reflective layer on the surface to produce rich, vividly coloured paintings - the term 'gouache' applies to both the paint itself and its method of application (it is used more thickly than traditional watercolours); rather than relying on the white of the paper to create highlights, as is done in the case of traditional watercolours, the gouache technique involves creating light tints by mixing white and colour.
It was painted by an unknown artist referred to as the 'Port Jackson Painter', who was one of the three main artists on the First Fleet - the other artists were George Raper, midshipman on the HMS 'Sirius', and Thomas Watling, a convict; the work of these three artists provides valuable information about the traditional way of life of Indigenous people in the Port Jackson (Sydney) area, changes resulting from British settlement, and some of the social exchanges between the two groups.