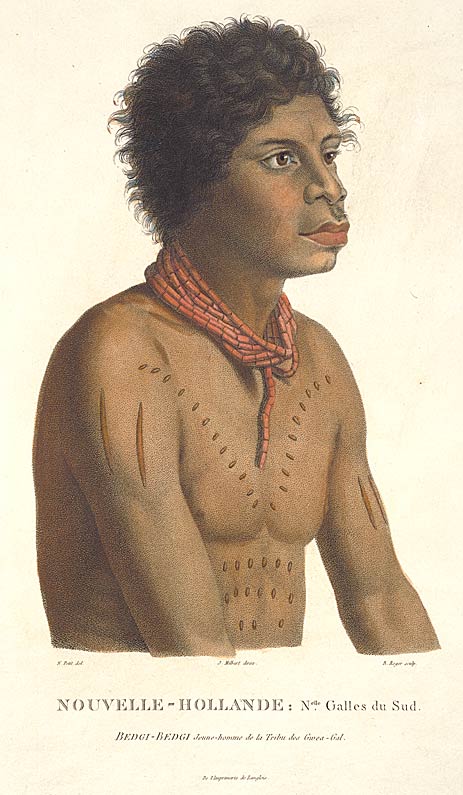 Description
This is a colour print of a half-figure portrait drawn by the French artist Nicolas-Martin Petit near Port Jackson (Sydney), between 20 June and 17 November 1802. It shows a man named as Bedgi-bedgi (also known as Bidgee-bidgee), said to be of the Gwea-gal tribe. He has patterned scarification on his arms, chest and abdomen, and is wearing what appears to be a long necklace wrapped around his neck several times. The print, measuring 31.0 cm x 24.0 cm, was published in France in 1824 as Plate no 22 in the second edition of 'Voyage de decouvertes aux Terres Australes (Atlas)' or 'Voyage of discovery to the Austral Lands (Atlas)'.
Educational value
This asset is a product of the 1800-04 French expedition to Australia led by Nicolas Baudin (1754-1803) - the expedition set out aboard two ships in October 1800, the largest scientific team up to that time to leave Europe for the Pacific; Britain and France had been at war since 1793 and although British authorities were suspicious of French territorial intentions in Australia they guaranteed safe passage for the expedition, which contributed greatly to knowledge in Europe about Australia's Indigenous peoples, geography, and flora and fauna.
It provides evidence that the Baudin expedition focused on details of Indigenous individuals - the 'Age of Discovery' by European explorers sparked great interest in theories of human development and the original inhabitants of Australia and the South Pacific islands; several expeditioners, including Baudin, were members of the newly formed Société des Observateurs d'Homme (Society of the Observers of Man), and zoologist François Péron (1775-1810) represented the new science of social anthropology.
It is an example of the work of the artist Nicolas-Martin Petit (1777-1804), who had trained in the school of the leading French neoclassical painter Louis David (1748-1825) - although Petit and Charles-Alexandre Lesueur (1778-1846) had both been hired as assistant gunners, they became the two official artists on the Baudin expedition; Petit concentrated mostly on portraits and landscapes, and Lesueur on zoological subjects.
It depicts Bedgi-bedgi, also called Bidgee-bidgee, who lived in the early 1800s around the British settlement at Port Jackson - Bedgi-bedgi, whose name was said to mean 'river flat', had a reputation for speaking very good English and mimicking the actions of the British; his birth date is unknown, but he was named on a list of Indigenous Australian people issued with free blankets at Parramatta by the New South Wales colonial government in May 1836.
It portrays the man who was given a crescent-shaped brass breastplate on 6 June 1816 by Governor Lachlan Macquarie (1762-1824) - Bedgi-bedgi's breastplate was inscribed with his name and proclaimed him 'chief' of the 'tribe' at Kissing Point (the present-day area of Ryde in Sydney); Macquarie hoped that those receiving breastplates naming them as 'chiefs' would receive enhanced status among their people, making them more useful as intermediaries; Bedgi-bedgi was one of nine Indigenous Australian people appointed by Governor Macquarie to act as guides on a military mission in April 1816 that aimed to quell attacks on British settlers west and north-west of Sydney.
It shows a type of necklace comprising uniform pieces of wood or bone each about 2.5 cm long, and body ornamentation formed by deliberately made raised scars - European observers noted that both Tasmanian and mainland Indigenous peoples made cuts on their skin (for example, with broken pieces of shell) that were purposely kept open until flesh grew up between the two sides, then skinned over, leaving the raised scars; the scars were normally made in patterns on chests, backs, arms and shoulders.
It is an example of a print made from an image engraved into metal, printed in colour, then finished by hand with watercolour paint - this particular print was made in Paris in 1824 using a stipple engraving by Barthelemy Roger (1767-1841), and was produced for one of the illustrations in the second edition of the atlas of the published account of the Baudin expedition, 'Voyage de decouvertes aux Terres Australes' (published in 1824).