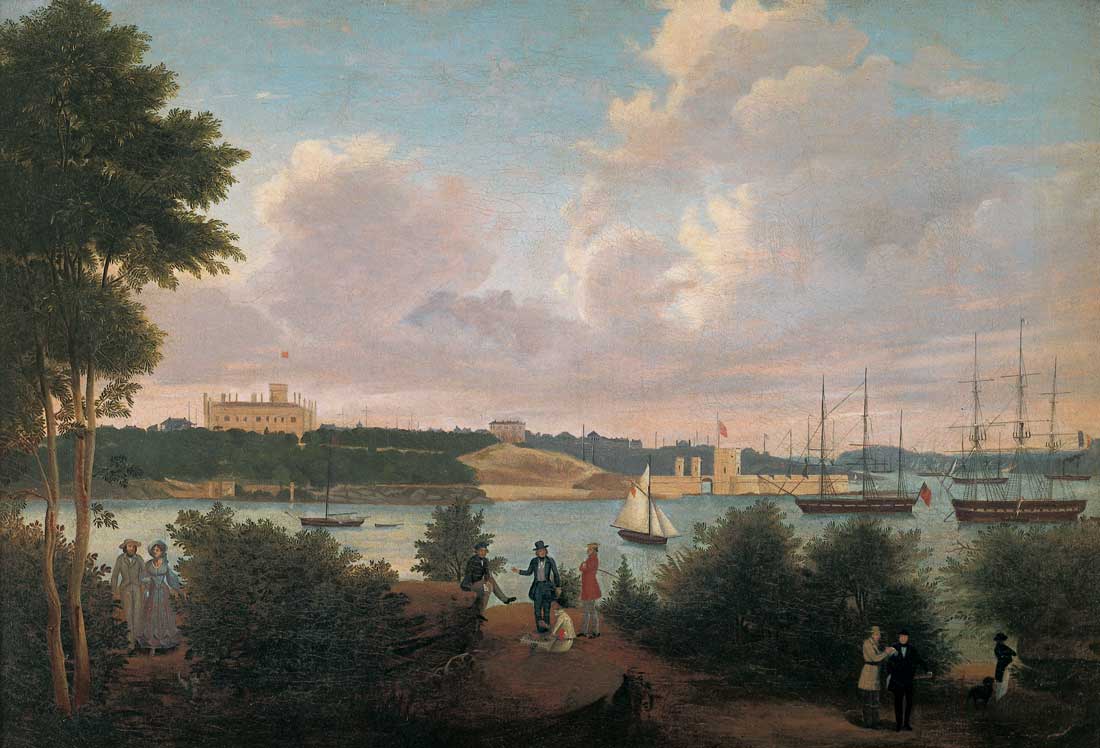 Description
This is an oil painting made around 1845 by Jacob Janssen (1779-1856). Measuring 62.8 cm x 91.0 cm, the work presents a 19th-century view of a section of Sydney Harbour. Several groups of fashionably dressed people can be seen among the shrubby trees in the foreground: on the left, a young couple with a white dog stroll down a pathway, while in the centre a group of four men are shown variously seated or standing. On the right are two well-dressed men apparently engaged in conversation, while another, with arms folded, seems to be admiring the view. The immediate and distant harbour is crowded with a variety of vessels, from dinghies to three-masted sailing ships. Across the harbour stand two significant buildings: a large two-storey building with a tower (on the left) and a fort with slit windows and gun emplacements near the edge of the water (centre right).
Educational value
This asset is a work by Jacob Janssen - for much of his life, Janssen was a travelling artist, spending time in Brazil, USA, India, Singapore and Manila; he arrived in Sydney in 1840 towards the end of his career and established a local reputation with his stylish scenes of Sydney Harbour.
It references a significant historical site - the view is from a popular harbourside beauty spot known today as Mrs Macquarie's Chair; the 'chair' was actually a bench carved out of sandstone by convicts in 1810 for Governor Lachlan Macquarie's wife, Elizabeth; Elizabeth Macquarie was known to visit the area and sit on the bench to enjoy the panoramic views of Sydney Harbour; the site is on a small peninsula that is part of The Domain, Sydney and is bounded on one side by Farm Cove and on the other by Woolloomooloo Bay.
It references historical buildings - the view is across to Farm Cove; to the left is the newly finished gothic-style Government House and to the right is Fort Macquarie, which was situated on Bennelong Point where the Sydney Opera House now stands.
It is a good example of a kind of topographical art that was common in mid-colonial Australia - from making illustrations of penal settlements, farms and private houses in the early 1800s to recording the growth of towns and cities in the mid-19th century, artists continued to be in demand, documenting these subjects as tangible symbols of civic pride and progress.
It portrays Sydney as a cultured and flourishing settlement - convict transportation to New South Wales had ceased in 1840 and this painting avoids any reference to convicts.
It shows how a trained artist like Janssen was skilled in amalgamating topographical and picturesque elements - the detailed depictions of people, buildings and ships are set within a carefully constructed natural setting that appears more European than Australian in its dark greens and neat clumping of trees and bushes; the foreground trees and bushes have been used to create a stage-like setting for the action that is taking place there and to frame the distant views.
It references mid-19th-century marine transport and technology - a variety of craft can be seen on Sydney Harbour, ranging from a dinghy and yachts under sail or at anchor to three-masted sailing ships (which had newly arrived from France and Britain); there is also a steam tug giving off clouds of black smoke.
It provides a snapshot of society and leisure in Sydney in the mid-19th century - the style of clothing worn by the people in the foreground suggests that it is most likely a Sunday or public holiday; the young woman on the left wears a dress supported by numerous petticoats and a slightly dropped waist, and a fashionable large bonnet tied under her chin; her companion, who is possibly a squatter, wears a cabbage-tree hat (woven from the leaves of the native cabbage-tree palm); the men's clothes reflect different classes of people, from cloth-capped artisans to black-coated prosperous gentlemen.