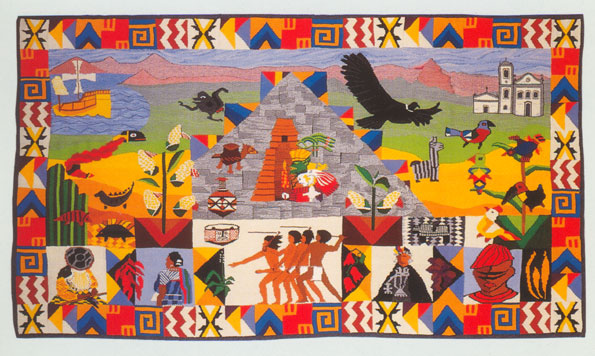 Description
This is a large tapestry wall hanging handwoven by members of the Spanish Latin-American migrant group in Adelaide, South Australia. Made from woollen yarn in vibrant colours, it depicts a mosaic of Latin-American social, cultural and historical themes and icons. It was made in 1992 as a contribution to the 'America 500 Years' celebration. The wall hanging measures 1.86 m x 1.07 m.
Educational value
This asset represents a migrant group's celebration and promotion of its cultural heritage - the tapestry was produced as part of the celebrations to recognise the 500 years of American history since the arrival of Christopher Columbus; although many Native Americans used the opportunity to comment on the their dispossession from their lands, the genocide and oppression they suffered, and the breakdown of their cultures, others, such as the South Australian Latin-American community, affirmed the survival of their traditions.
It is an example of a community arts project commemorating the cultural heritage of a migrant group - Adelaide's Latin-American community made and displayed the tapestry in 1992 as part of an exhibition mounted in the South Australian Migration Museum; Silvia Stanfield coordinated the project and Elaine Gardiner assisted the community to design and weave the tapestry.
It is connected with wider Latin-American migration to Australia - Latin Americans migrated to Australia in three streams, including a government recruitment drive in the 1970s under a refugee scheme, in the 1980s and early 1990s, and under the Family Reunion Program in recent years; they have settled throughout Australia; Queensland, for example, has communities from El Salvador (2,300), Chile (1,200), Argentina (750), Uruguay (400), Colombia (380) and Peru (330).
It provides evidence of Latin-American cultural maintenance in South Australia - South Australia has general Latin-American organisations such as the Spanish Latino Americano Family Association, and background-specific ones such as the Spanish Club of South Australia and the Chilean Club; all such organisations promote Latin-American culture through sport, tapestry and weaving workshops, traditional cooking sessions, music and exhibitions of textiles and other crafts.
It displays an art form of historical significance - for hundreds of years tapestries have been used for decoration, warmth, recording events and recounting the myths and stories of daily life; they were usually woven in wool and with the invention of a new type of loom in the 14th century they became a more common and popular art form.