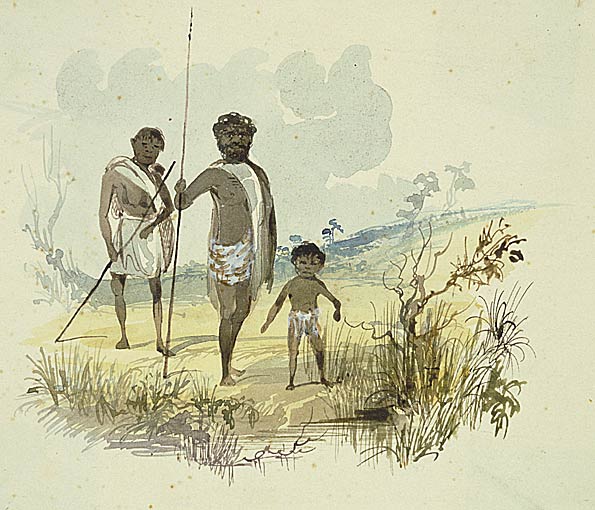 Description
This is a watercolour painted by Samuel Gill in about 1850, entitled 'Two natives and child by a creek'. The painting, which measures 10 cm x 12 cm, is also known as 'Aborigine with barbed spear'. The location is unidentified. The image shows three Indigenous Australians - a man, a woman, and a child aged about three. All are barefoot and wearing what could be a mixture of traditional and European clothing. They are standing in an open area beside a creek. The man is carrying a barbed spear and the woman has a long stick in one hand and a loose basket over her left shoulder.
Educational value
This asset probably shows an Indigenous Australian family - the man, in his traditional role as a hunter of food, is carrying a barbed spear; the woman, traditionally a gatherer of food, is carrying what could be a digging stick, used for tasks such as digging up yams.
It shows three Indigenous Australians wearing what could be a mixture of traditional and European-style clothing - the clothing draped over the shoulders of the adults could be kangaroo-skin cloaks.
It appears to show a woman carrying a basket over her left shoulder - Indigenous Australian women traditionally made baskets by weaving a kind of rush; items carried in the baskets included food, fire-making materials, gum for adhesive and charms.
It depicts Indigenous Australians at a time when their traditional lifestyle was undergoing rapid transition - although the location of this painting is unidentified, it is probably in one of the three parts of the country where the artist worked (South Australia, Victoria, New South Wales); European settlement had immediate and major effects on traditional lifestyles in all three locations.
It features a painting by the artist Samuel Thomas Gill (1818-80) - English-born Gill arrived in Australia in 1839 and became well known for his realistic and often humorous paintings of everyday life; his prolific work includes many depictions of Indigenous Australians.