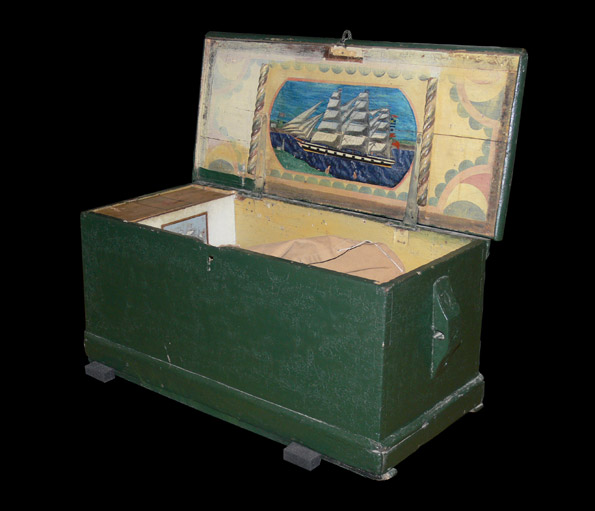 Description
This is a traditional 19th-century rectangular painted wooden seaman's chest with a hinged lid. The exterior of the chest is painted green and the interior is a pale cream. The lid has a sailing vessel painted on the inside and the picture is partly framed with handwoven ropes. The white box section on the left-hand side was probably a repository for smaller personal items. The chest measures 93.5 cm (height) x 41.5 cm (width) x 43.0 cm (depth).
Educational value
This asset shows how sailors stored their personal belongings - during voyages, sailors kept their limited possessions in a chest such as this one; commonly sailors either bought new chests from a ship's chandler and then customised them or purchased secondhand ones from other mariners.
It depicts a versatile personal possession - sailors used their sea chests for many purposes; while seamen's chests were principally used for storage, they also served as seats or tables on which sailors played cards; the exterior surfaces of the chests received much wear and tear, so seamen usually painted pictures only on the inside.
It reveals a little about life at sea during the 19th century - many sailors were proud of their personalised chests and painted the inside lids with images of sailing vessels or beautiful women; images of women highlighted the absence of female company and loved ones from the sailors' lives while they were at sea.
It is evidence of a sailor's handicraft skills - in the quieter moments of long sea journeys, sailors frequently turned their hands to many forms of handicraft such as painting, carving and weaving.
It is an example of maritime art as an important historical resource - maritime art took many forms and is a significant resource for historians because it sometimes provides the only record of a ship's appearance in an age before photography; paintings of ships were very important mementos for shipowners, and for those who sailed in or worked on the vessels.