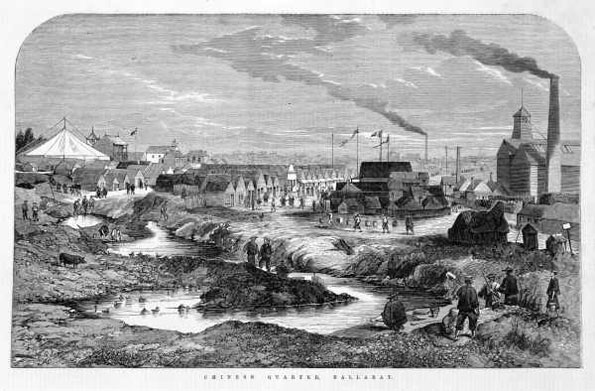 Description
This is a wood engraving, dated 18 July 1868, by A C Cooke from the 'Illustrated Australian News'. It shows a scene on the gold fields of Ballarat in Victoria with the Chinese quarter in the foreground. Under a cloudy sky, industrial chimneys send up clouds of smoke on the right-hand side, and the houses of the community cluster together. Flags are flying and a large tent is shown in the background. On the right, in the foreground, are Chinese figures, some panning for gold around the stream.
Educational value
This asset shows some of the remaining members of the Ballarat Chinese community in the late 1860s - large numbers of Chinese miners and workers came to Australia during the gold rush period; in 1858, on the Ballarat gold fields alone, there were 40,000 Chinese people out of a total population of 150,000; their unpopularity with other miners led to a campaign in the 1860s to drive them off the gold fields and to force them to return to China.
It depicts a period of transformation of a gold-mining town from a tent-and-shanty town of the gold rush period into a town with industry and permanent housing - in the 1860s, when the shallow alluvial gold deposits began to run out, companies were formed to exploit the deep quartz lodes; according to local historians, the Ballarat gold field was at its peak in 1868 and supported 300 companies and a population estimated at 64,000.