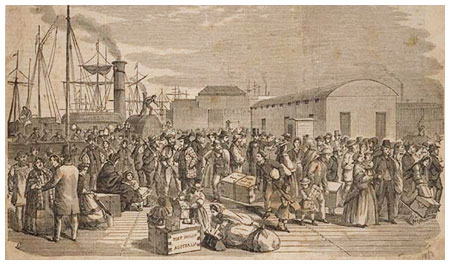 Description
This is a sepia-toned wood engraving made by Frederick Grosse (1828-94) from a sketch by Nicholas Chevalier (1828-1902), and titled 'Emigrants landing at Queen's Wharf Melbourne'. It measures 16.4 cm x 25.3 cm and was first published in an illustrated newspaper in the 1860s, during the final years of the gold rush.
Educational value
This asset illustrates the massive immigration into Victoria as a result of the discovery of gold - this immigration had an enormous and lasting effect on Australia's economic and social history; people seeking their fortunes on Victoria's gold fields came from many countries, including Britain, Ireland, Europe, China and the USA.
It depicts a multitude of people, including men, women, children and families, arriving in Melbourne in the 1860s during the gold rush - gold was first discovered in Victoria in 1851, soon followed by larger discoveries at Ballarat and Bendigo, also in Victoria, and these caused Victoria's population to increase from 97,489 people in 1851 to 168,321 people one year later; by the end of the 1860s the gold rush had largely come to a halt, as the gold reserves were becoming exhausted.
It refers to emigrants rather than immigrants - this indicates a British perspective to the illustration; emigration refers to leaving a country in order to settle elsewhere, while immigration refers to people coming to a new country.