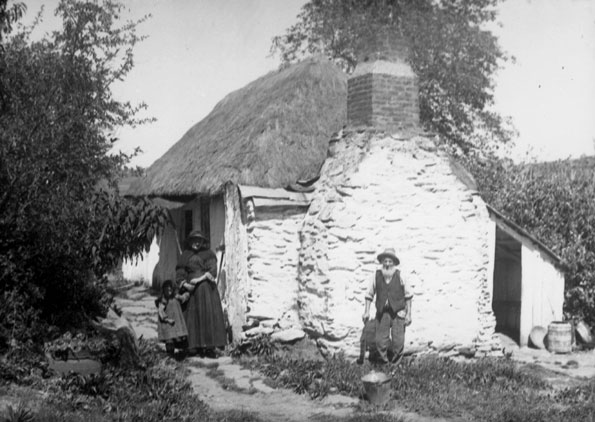 Description
This is a black-and-white photograph of settlers standing beside their cottage in South Australia's Adelaide Hills, possibly at Clarendon, in about 1890. It shows an elderly man and woman with a young girl, possibly their granddaughter. The cottage has whitewashed stone walls, a brick chimney top, a slab timber lean-to and a thatched roof. A bucket, bowl, trough and barrel can also be seen. The photograph was developed from a glass negative that could be one of three sizes, 8.9 cm x 14.0 cm, 16.5 cm x 21.6 cm or 25.4 cm x 30.5 cm.
Educational value
The cottage in the image was built from stone, mud, timber slabs (probably hewn from red gum) and thatch, and using bricks for the chimney, showing that early settlers constructed their cottages from natural materials that were near to hand - they also used some manufactured materials such as hessian (for ceilings), corrugated galvanised iron and bricks when they became available.
The photograph suggests the isolation experienced by many early settlers and the hard work required to clear bushland, construct a cottage from local materials and make a living from the land.
The clothing in the photograph is typical of clothing worn by settlers in the 19th and early 20th centuries - it was common for women to wear long skirts, shawls and hats (the young girl in the image is dressed similarly) and workmen to wear long trousers, shirts, waistcoats and hats.
The cultural heritage of British and other European settlers is evident not only in the building's architectural features such as its thatched roof, but also in the trees and plants around the cottage - familiar trees and plants reminded Australian settlers of 'Home', be it England, Scotland, Wales, Ireland or Germany, and also provided them with familiar fruits and vegetables.