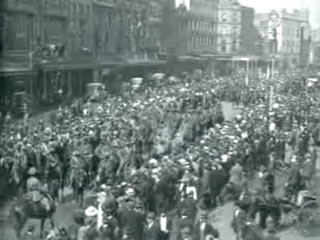 Description
This is silent black-and-white newsreel footage of a large crowd farewelling troops from the Australian Imperial Force (AIF) on their way to the Western Front during the First World War. The procession of troops marches down a main street in Sydney, flanked by crowds on either side. The troops are on horseback and foot, and the procession includes a brass band. In the final sequence civilians, possibly family members, march with the troops. Passengers on a stationary tram observe the procession, and some show their support by clapping. Shopfronts and parked cars can be seen in the background.
Educational value
These AIF troops leaving Sydney to fight in the First World War were possibly reinforcements on their way to the Western Front in France and Belgium, where 180,000 Australians served between March 1916 and the signing of the armistice with Germany in November 1918 - AIF troops were engaged in gruelling, protracted trench warfare on the Western Front, which resulted in a high number of casualties; 46,000 were killed and 130,000 wounded, or exposed to poisonous, often lethal, mustard gas; the high casualty rate meant that reinforcements were continually needed.
Although enlistment to fight overseas in the First World War was voluntary, Australian men joined up in large numbers - from a population of less than five million, about 330,000 men enlisted.
Farewell processions were used to promote public support for Australia's involvement in the War - public support was initially widespread as many Australians saw the War as a means for the fledgling nation to prove itself; as casualties mounted, public support decreased and by 1917 urgent appeals to enlist were met with some apathy; it may have been hoped that emotional public send-offs for the troops would help counter declining support and a drop in the number of new volunteers.
The khaki uniform worn by soldiers in the AIF during the First World War comprised baggy woollen trousers and jacket with metal buttons, lace-up, ankle-length boots, and puttees, which were strips of cloth wrapped around the lower leg to prevent water and mud sloshing into boots and breeches - soldiers wore felt slouch hats with one side turned up and a khaki hat band bearing a Commonwealth (Rising Sun) Badge, which became an emblem of the Australian Army.
The footage provides examples of clothing worn by civilians in this period - men wore suits with waistcoats and ties; women's dresses and skirts were narrow with a high waist that was often defined by a cummerbund, while hemlines were ankle-length and square collars were fashionable; it was customary to wear a hat outside, as a bare head was considered immodest.
Cars can be seen in a Sydney main street - although motor vehicles first appeared in Australia around 1900, they were initially a luxury, owned mainly by wealthy people; as car prices fell, due to assembly-line production, more people acquired them and by the outbreak of the First World War there were 37,000 registered cars, trucks and motor cycles in Australia; at the War's end, in 1918, the total number of vehicles had reached 60,000.
At the time, Sydney had Australia's most extensive tram network - however, tram lines in Sydney were progressively closed between 1939 and 1961, when buses became the preferred form of public transport.
This example of early film footage is typical of the period, when films were silent and in black and white - short actuality films recording daily life in Australian cities were made from 1896; the size and weight of the camera meant that films tended to use long, static takes, as in this excerpt, where the camera remains fixed; early movie cameras were hand-cranked and if the camera was under-cranked during shooting, the action was accelerated, making it appear unnaturally fast or jerky, as in this excerpt; over-cranking slowed the action down.
This footage is an excerpt from a newsreel, which were screened before the main feature film in Australian cinemas at the time - prior to the introduction of television in 1956, newsreels were an important news source and comprised several reports lasting a total of 12 minutes; cinema programs usually included an international and a locally made newsreel; this excerpt is from a local newsreel called the 'Australian [later Australasian] Gazette'.