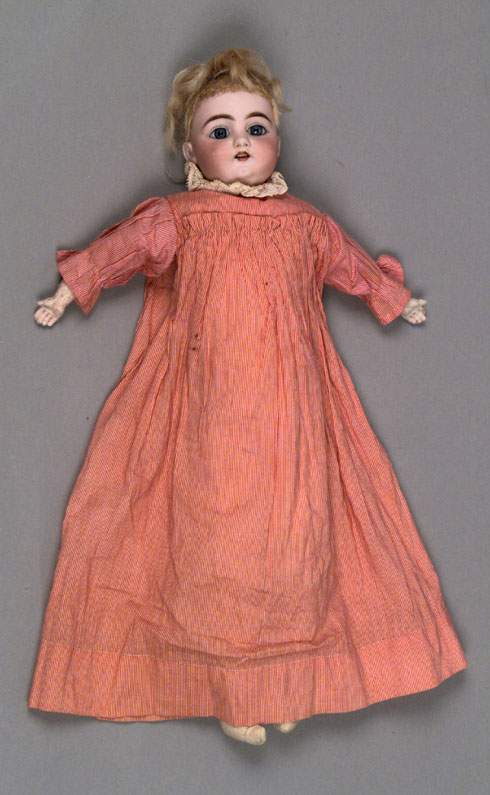 Description
This is a bisque doll dressed in handmade doll's clothes that belonged to Mary Parkes, grand-daughter of Sir Henry Parkes, between 1890 and 1900. The doll has a bisque swivel head, finely painted eyebrows and eyelashes, large inset blue glass eyes, pierced ears and hair glued to the crown. The doll's mouth is open, showing four teeth and a tongue. The doll's body (not visible in this photograph) is made from kid, with gusseted knees; the body and lower legs are filled with sawdust. The lower arms are made of bisque and have separately formed fingers and thumbs. The doll is dressed in an ankle-length nightshirt of red-and-white striped cotton, with three-quarter-length cuffed sleeves, a high round neck edged with lace, and a gathered bodice. The doll stands 38 cm high and is 7 cm wide.
Educational value
This is a fine example of a fashionable bisque doll from the 1890s, made from unglazed porcelain that has been moulded into shape and baked in high temperatures in a kiln - the head and body parts would have been painted before the porcelain was fired again; children often worked in the factories that produced these dolls, painting the fine features such as the eyebrows and eyelashes.
The doll is linked directly to the Parkes family, one of Australia's significant families, and belonged to Mary Parkes, grand-daughter of Sir Henry Parkes, the 'father of Federation' - Henry Parkes (1815-96) was elected premier of New South Wales five times, and in the 1890s was called the 'father of Federation' because of his role in encouraging the colonies to reach agreement about a federal constitution; Powerhouse Museum has a significant doll collection but this is one of the rare pieces in the collection that can be traced to its original owners.
It is unusual for a doll of this kind to be wearing a homemade garment, as dolls such as this were usually sold with extensive wardrobes of beautifully made and fashionable clothes that were purchased separately - it is not known whether this doll had any store-bought clothes; the nightshirt was probably made by Isabella Parkes, Mary's mother, with help from her daughter; giving a young girl a doll was a popular method of encouraging her to learn dressmaking.
Isabella (nee Murray) married Varney Parkes (Sir Henry and Clarinda Parkes's youngest son) in 1884 and had five children - the family was often short of money due to Varney's fluctuating business career and extravagance, which forced him to bankruptcy in 1895; Isabella left him in 1899 because of his notorious extramarital affairs, moving to Scotland and attempting to obtain a divorce, but at that time a husband's infidelity was not regarded as sufficient cause; Isabella returned to Sydney, Australia, and raised the children by herself.
From the mid-19th century, toy manufacturers in Thuringia, Germany, began producing ceramic dolls' heads and parts, and dolls' clothes that became instantly popular - the Thuringia dolls were much more lifelike than wooden dolls and were cheaper than wax dolls; although porcelain dolls were also produced in France, Denmark and Sweden, the rich clay deposits in the Thuringia region ensured that this region remained the centre of European doll manufacturing; these 'character' dolls, with their full cheeks and ball-jointed bodies, were prized for their realistic, childlike looks.
The design of the doll includes several features that allow for movement, including the swivelling head created by using separate shoulder plates and the gusseted knees that allow the doll to bend.
The method of manufacture (ceramic head and parts stitched onto a body) allowed for a wide range of options and prices - with a cloth body and without bisque feet, Mary Parkes's doll was one of the cheapest available; more expensive dolls had leather bodies and ceramic legs that were often painted to include stockings and shoes.
Glass eyes are said to have originated in Birmingham, England, and have been a common feature on bisque dolls since the 1870s - glass eyes are much more realistic than eyes that are moulded and then painted.