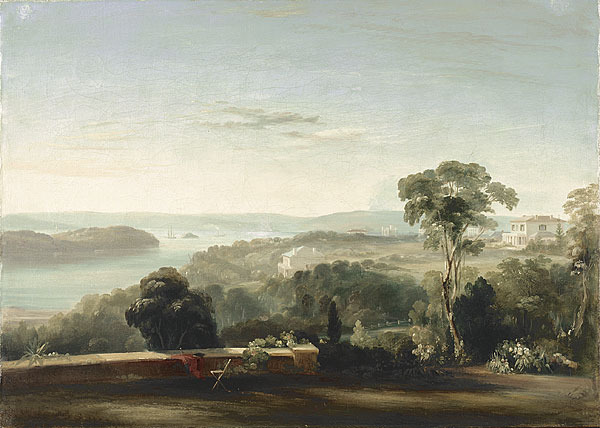 Description
This oil painting by Conrad Martens shows a view from a colonial mansion on Woolloomooloo Hill, Sydney. From a flower-flanked terrace the land falls away to Woolloomooloo Bay to join a busy Sydney Harbour at Mrs Macquarie's Point. Big houses stand along Potts Point, but both sides of the bay and the distant north shore are covered in trees. Martens uses cool blues and greens with pink in the sky and browns on the terrace, where a chair, book, parasol and garment show that someone has enjoyed the 'View from Rose Bank'. It measures 46.8 cm x 65.2 cm.
Educational value
A strong sense of three-dimensional depth is engendered in this painting in several ways. The shores of Woolloomooloo Bay seem to converge as they get further away, as though towards a vanishing point, and the houses become smaller - both examples of linear perspective. The way in which nearer objects are portrayed in clearer, warmer and darker details, while those viewed through a larger body of air are less distinct, cooler and lighter, is called aerial perspective.
London-born Conrad Martens (1801-78) trained as a watercolourist and oil painter and was one of the best educated of Australia's colonial artists in both theory and practice. Between 1832, when he left England, and 1835, when he arrived in Sydney, he sailed the world, including two years as an artist on Charles Darwin's 'Beagle'. His studies of the changing moods at sea prepared him for capturing the atmospheric effects of coastal Sydney, where he lived for the next 43 years.
This painting is not a typical view of Sydney in the early 1800s, which was so crowded and unsanitary that this area on Woolloomooloo Hill was set aside to meet the demands of the growing professional middle class for somewhere better to live. Land was granted to selected citizens on condition that they erect substantial residences within three years, only five of which survive: Barham, Telford Lodge, Tusculum, Rockwall and Elizabeth Bay House.
The big house on the left in the painting is Telford Lodge, while further away to the right are Tarmons, Grantham, Rockwall (hidden by trees), Tusculum and possibly Orwell. The big house on the right, with the colonnade facing west, is Brougham Lodge (see Martens's 1840 pencil sketch for 'View from Rose Bank' in the State Library of New South Wales). The oil painting has been described as one of Martens's most Italianate landscapes, with its large villas and soft light.
From a watercolour of Rose Bank by Conrad Martens held in the State Library of NSW, it appears that the house was built in 1835 for deputy commissary-general James Laidley (1786-1835), and that by 1840 it was owned by Robert Campbell III. Before photography was invented in 1839, settlers often commissioned artists such as Martens to record their splendid houses and the views from them, along with portraits of themselves and their families.