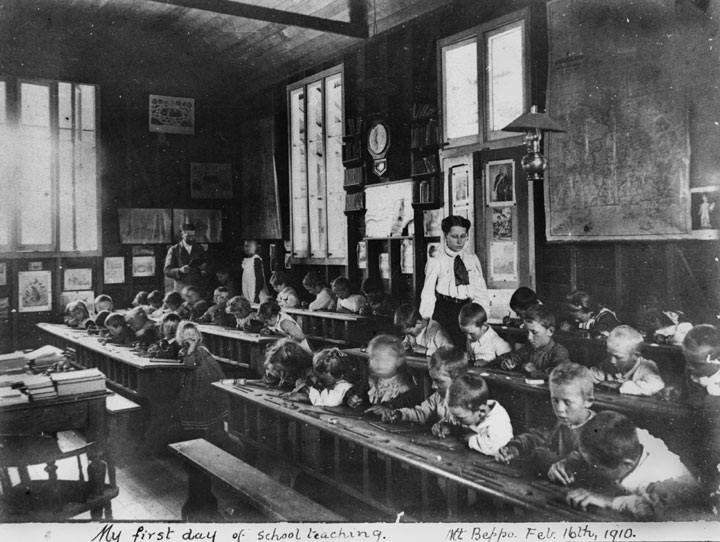 Description
This black-and-white photograph, taken on Ruth Pook's first day of teaching, shows the unlined classroom of Mount Beppo State School in Queensland, including two teachers and 35 students. The teachers are each supervising students in half of the room. Students sit at six long desks. Younger students at the front use slates and slate pencils and an older girl in the back row stands. A teacher's desk is at the front of the room. Maps, posters and pictures are on the walls. Handwritten beneath the image is: 'My first day of school teaching. Mt Beppo. Feb. 16th, 1910'.
Educational value
The image reveals common educational tools used in 1910 and provides some evidence of educational methods at the time - copying, rote learning and strict discipline were the norm. The long wooden desks have ink wells and slots for storing students' slates. Students progressed from slates and slate pencils to ink and paper. The student who is standing may have been asked a question and would have been required to stand respectfully to answer.
Ruth Pook is seen here on her first day of teaching; a little more than half of the Queensland teaching service at the time were women. The prevailing view of the time was that a woman's place was in the home, and as a result women were employed on unequal terms to men. Women were forced to resign if they got married and were given less opportunity for promotion. Pook's salary was 76 to 82 per cent of that of a man at her classification.
Pook was the first assistant teacher, a classified position, at Mount Beppo State School. She would first have been a pupil-teacher and then passed a series of examinations over four years while training on the job. The head teacher in the photograph, Charles Gwyther, would probably have taught the older students, as some administrators at the time regarded women as mentally and physically too frail to cope with older students and promotion.
Mount Beppo State School opened in September 1893 after the school building and teacher's residence were built; it had an enrolment of 45 students and one teacher. The local community had to contribute one-fifth of the cost of the buildings. Suffering the fate of many small country schools it closed at the end of 1972, after which the remaining students in the district travelled by bus to the nearby larger centre of Toogoolawah.
One of the challenges for Mount Beppo teachers in 1910 was that the English language was used in the classroom, but the majority of the early settlers of the district were Germans of the Apostolic faith. The settlers' children spoke German at home and, up to the end of the First World War, attended 'German school' at lunchtime on Wednesdays at various homes in the district to learn to read and write high and low German.