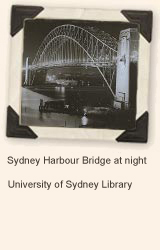 The Great Depression severely impacted Australians with over 30% unemployment at the peak. It would have a lasting impact on the generation who lived through it and take the country 10 years to recover. Australia had borrowed heavily during the 1920s to finance infrastructure and domestic consumption. With the 1929 stock market crash, interest rates soared and Australians found it almost impossible to repay the loans. Furious debate ensured as some argued that loans should not be repaid and government money should instead be spent creating local jobs.
Parliaments at home and abroad struggled to find a solution to the rising levels of unemployment. Many Australians relied on charity to survive, in a time when there was no unemployment benefit. In 1932 the government payment 'the susso' was introduced, the forerunner of the unemployment benefit. Women were not eligible for 'the susso' payment due to the assumption that they had a male breadwinner at home to support them.
Men took to the road to look for jobs that did not exist. Evicted from their homes, some families built shacks on beaches and lived off fishing and growing vegetables. For those who remained in employment, they often faced reduced hours and the need to support family members who no longer had jobs. They became more self-reliant, tilling backyard gardens to grow food, and devising cheap ways of entertaining themselves.
First Nations peoples, many of whom lived on government-controlled reserves, protested the restrictions imposed on their movement including the right to live with their families and be paid a fair wage. The 1938 protest known as the Day of Mourning was the first national protest at the discrimination First Nations people faced. Notable activists who were part of the early First Nations groups who organised this protest included William Cooper, Pearl Gibbs and Jack Patten.